Take On The Best Training In Town With Our Kids Martial Arts Classes
Could your child use a bit more confidence? Are they in need of a better way to stay active? Are you hoping to help them find a great group of new friends?
Well at PRO Martial Arts Canton, we offer all of that and more!
Our Kids Martial Arts classes use the traditional teachings of Hapkido, Taekwondo, and Tang Soo Do to help students across Canton find success in all aspects of life.
We are proud to train students of all skill levels. Just fill out the short form on your screen to learn more about our system today.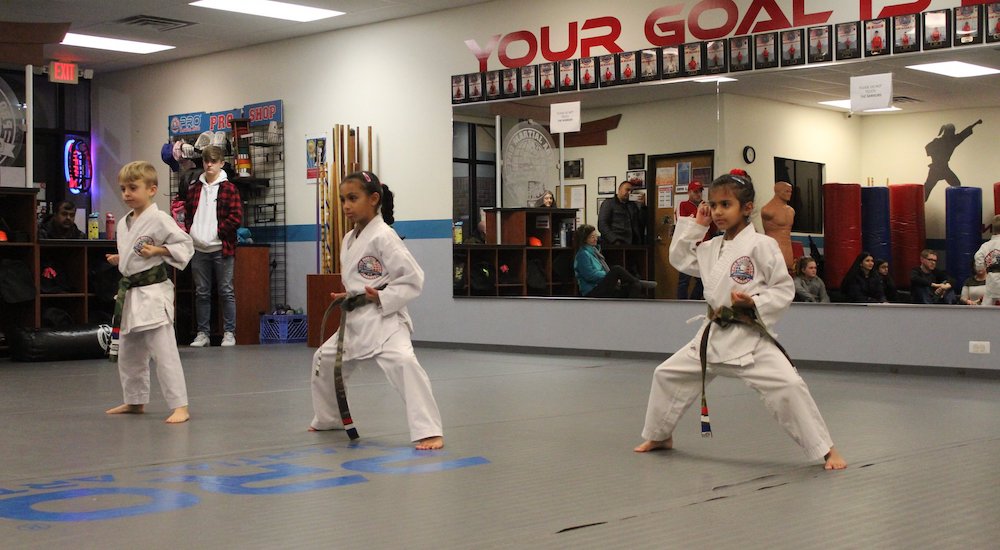 Our Kids Martial Arts Classes Teach Confidence, Courage, And More!
Self-confidence can be one of the most important skills for a young child to develop. Some students are born with it. Others have to learn it for themselves.
At PRO Martial Arts Canton, we're committed to helping students all across our community build the self-confidence they need to face life with courage and find success in everything they do.
We're proud to offer several different classes, depending on the age of your child:
Little Rhinos: A fun introduction to beginner martial arts for preschoolers ages 3 to 5, skills, drills, and games teach important values like self-control, focus, confidence, self-esteem, assertiveness, teamwork, manners, respect and attitude.
Basic Classes: Self-defense and fundamentals of martial arts are featured in these classes designed for children ages 5-12 and teens ages 13-17. Character building and leadership skills are the fabric of the programs that include the implementation of our proprietary Character Education. Interactive and engaging, the core curriculum consists of kicking, blocking, and forms. The Teen curriculum adds real life defense, while focusing on the development of strength, flexibility and cardiovascular ability. This opportunity to thrive in a supportive environment is one that will provide your child some of his or her most valuable life lessons.
Leadership Classes: An introduction to character education training and advancement of martial arts skills is the focus of these lessons that will resonate in all aspects of a student's life.The goal of these classes is to teach efficiently as well as effectively. Open only to motivated and dedicated students, training is fast-paced, diverse and detail oriented; resulting in a most rewarding and fulfilling experience.
Advanced Leadership Classes: These 60 minute classes advance your child's character education with 24 monthly topics including individuality, friendship, self-reliance, self-control, goal setting, courage, and generosity. They propel our students on the road to black belt. Admittance into this program is by application only. Training is more frequent, fast paced and rewarding as students begin to apply martial arts to their practice and sparring. An accomplishment they will wear with pride.
We use hands-on instruction and a step-by-step coaching system to help students develop new skills and feel great about themselves along the way.
Our Kids Martial Arts classes here in Canton are perfect for:
Leadership skills and communication strategies
An unwavering sense of accomplishment
Long-lasting motivation and excitement
Well-rounded character skills for all aspects of life
PLUS, We're Focused On Proven Bully Prevention Skills For All Ages
Whether your child is 6 or 16, bullies are always around and always a threat.
At PRO Martial Arts Canton, we're working hard to make sure your child knows how to stand up to a bully and avoid the threats of intimidation in any situation.
Instead of focusing our time on how to fight or resort to physical violence, our Kids Martial Arts classes equip students with the mental and emotional skills to overcome a bully and protect vulnerable friends around them.
Here at PRO Martial Arts Canton, we utilize the ARMOR® Bullying and Predator Prevention Program. This is a PRO Martial Arts exclusive bullying and predator prevention program that teaches children how to stay safe in an increasingly dangerous world. By enrolling your child, you acknowledge the serious safety threats that your child may face and are making sure they have the armor needed to stand tall against bullying behavior and predator activity – both online and in their everyday lives.
We use the world of martial arts training to teach students across Canton:
Proven conflict resolution strategies
Incredible situational awareness
Leadership skills in the face of intimidation
Effective self-defense tools as a last resort
Don't Miss Out On The Best Kids Martial Arts Classes In All Of Canton
At PRO Martial Arts Canton, we're proud to offer an exciting environment where students all across our communities can challenge themselves and feel great about themselves along the way. Join us here in Canton and treat your child to the best Kids Martial Arts classes in town.
We train students of all ages and experience levels. Just fill out the short form on your screen to learn more today!